Warning: This page is no longer maintained and is preserved for historical purposes.
Seismic Monitoring in South Carolina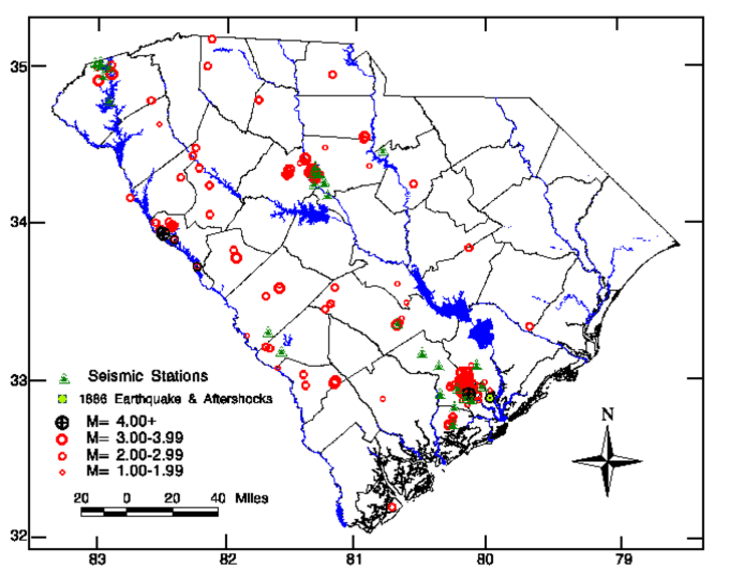 Historical and Instrumental Locations of South Carolina Earthquakes 1698-1995
Locations based on Talwani (1996)
For a hard copy and catolog please contact:
Ms. Tammie Dreher
SC disaster Preparedness Div. Columbia
1-803-734-8020
email:

To obtain station listings or detailed maps of the subnets, select one of the links to Charleston, Monticello, or Jocassee.
Note: these station maps are obsolete and will be removed or replaced as the seismic network is reconfigured.

View a detailed map of earthquakes in South Carolina
The network of seismic stations located around Lakes Jocassee and Keowee was deactivated in January 2003 due to loss of support funding. There are tentative plans with the USGS to install one broadband seismic station in northweastern SC sometime in 2009 or 2010.
The coastal recording facility located at Charleston Southern University was closed December 2005. Efforts are underway to resestablish a recording node elsewhere.
Network stations located in and around Charleston are being deactivated or relocated due to loss of suitable site locations. Many were established on Westvaco tree farms that have now been sold for development. It is unclear how many will remain due to soaring population growth in Charleston and Berkely counties.
The seismic monitoring network surrounding Monticello Reservoir was closed December 2006 due to the shortage of funds for continued operation. There are no plans at the present time to reopen the network.
Our place in the big scheme...USNSN